Coral Sky Amphitheatre at the S. Florida Fairgrounds
If you're a fan of 30 Seconds To Mars, the chance you've always wanted is here!! That's right, 30 Seconds To Mars are back with an all-new album and a mammoth 2018 tour!! They're joined on the road by Walk The Moon and MisterWives! Catch their incredible live performance on Friday 29th June 2018 at Coral Sky Amphitheatre! Tickets are on sale NOW – hit the "Buy Tickets," button to get yours!!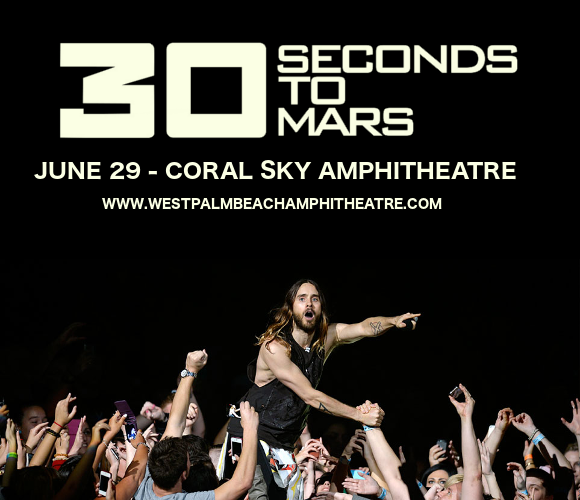 Best known for their song "The Kill," which stayed on the Billboard Modern Rock Charts for a record-breaking 52 weeks and won several MTV Awards, 30 Seconds To Mars have had a steady output of critically acclaimed, best-selling albums since their debut in 2002. The upcoming album marks their first since "Love, Lust, Faith and Dreams," in 2013.
"We are working on our fifth album right now," Jared Leto, also an actor known for his roles in films such as "Suicide Squad," and "Blade Runner 2049" enthused, and went on to explain the big gaps between albums. "We've written about 40 or 50 songs and we're getting closer and closer to being finished… I always want to put an album out sooner. Every time I make an album I go on tour and say I'm going to make an album fast this time, in a year or two, but it always takes me four years. I'm just so slow."
It'll be well worth the wait – but don't wait around any longer to get tickets!! Grab 'em before they go!!