Coral Sky Amphitheatre at the S. Florida Fairgrounds
Are you ready to see the reigning King Of Country live?? Alan Jackson's Honky Tonk tour was so well-received last year that he's continuing it into 2018!! The country hitmaker will arrive at the Coral Sky Amphitheatre on Saturday 12th May 2018 with some very special guests!! Keep it country with Alan Jackson – grab your tickets and your cowboy hats and get ready for an awesome concert – see y'all there!!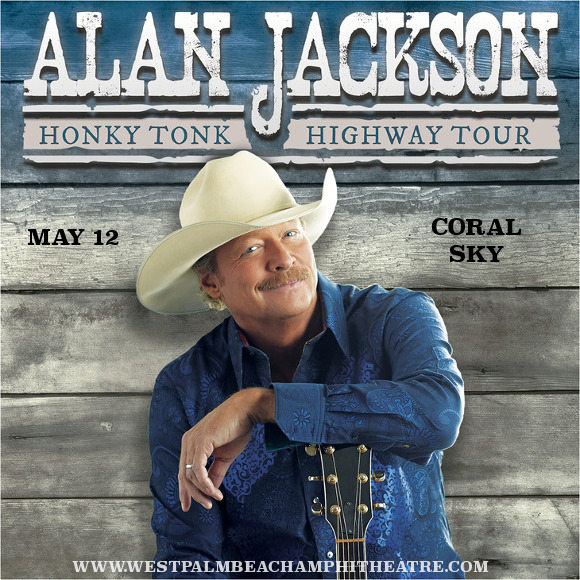 Signed to Arista Nashville in 1989, Alan Jackson charted at number 3 on the Hot Country Songs charts with "Here in the Real World" in 1990. The single was the first from his debut album of the same name, which saw three more singles in the top five, including "I'd Love You All Over Again," his first number one!!
Setting the standard for country artists worldwide, Alan Jackson went on to capture the hearts of country lovers everywhere with his signature sound, combining traditional country with honky tonk. The winner of countless awards, he was inducted into the Georgia Music Hall Of Fame in 2001, received a star on the Hollywood Walk of Fame in 2010, and in 2017, earned a highly-deserved induction into the Country Music Hall of Fame.
Get ready to see one of country's greats live for yourself!! Grab your tickets to see Alan Jacson NOW, while they last!!