iTHINK Financial Amphitheatre at the S. Florida Fairgrounds
West Palm Beach, you better look out because the most amazing concert full of the most incredible metal you have ever witnessed delivered in the most awesome way will be brought to you as Avenged Sevenfold brings their superb tour, Life is But A Dream, on its North American part of the trek. The band is well-known for their high energy shows and crowd interaction, and making the whole thing even better will be support from Falling in Reverse. This is going to be one of the best events of the year, and you have to get your tickets for the show at the iTHINK Financial Amphitheatre on Saturday, September 16, 2023 now. Doing so couldn't be simpler; all you have to do is locate the "GET TICKETS" button above, click that, and follow the really easy checkout process. This concert has your name written all over it, so be sure to act right now!!!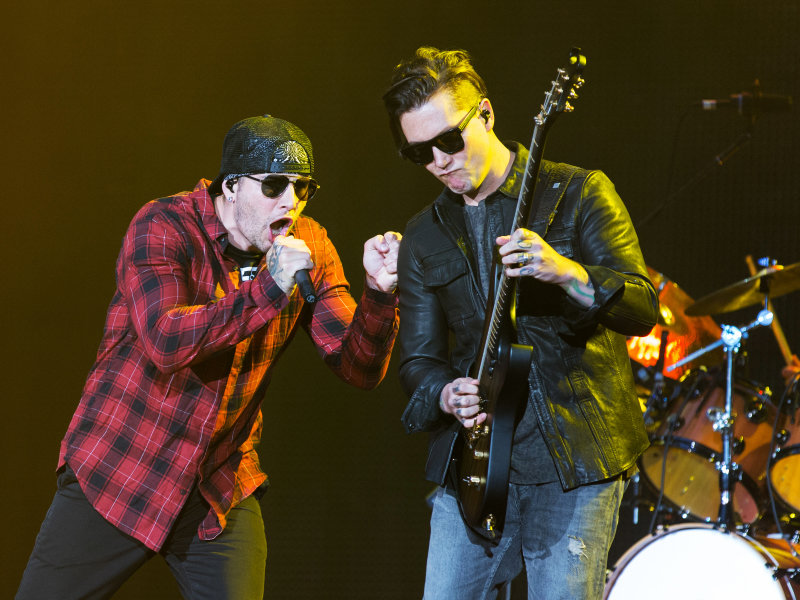 Abbreviated as A7X, Avenged Sevenfold has been making heavy metal music since their formation in 1999. The sound is very broad, combining heavy metal with hard rock, and they have a knack for producing some of the most amazing artwork for their album material and concerts.
Their first album, Sounding the Seventh Trumpet (2001), sold over three hundred thousand copies worldwide and made reference to the New Testament. Fans really picked up on that biblical and apocalyptic vibe, which has been a mainstay in their productions.
The second album, Waking the Fallen, was certified gold in 2009, although it was released in 2003. The band received even more sales for their work on this recording, totaling over six hundred thousand copies sold, and by 2021, this album had received platinum certifications in the States, gold in Canada, and a silver in the UK.
To the sheer delight of fans around the world, and as time went on, the band released a total of 7 albums, including the aforesaid pieces of work. Now they have a brand new album out called "Life is But A Dream," which contains a brand new single, "Nobody," their first in over seven years. The amazing thing about this tour is that fans will have the rare opportunity to hear all of this brand new material live, making for an incredible evening of metal madness.
Fans can expect to witness the band's awesome stage presence as the lighting and graphics capture your soul and the music moves your body. It is honestly going to be one for the history books, and you must be there.
In addition, Falling in Reverse will be there to warm up the crowd. They suit Avenged Sevenfold's sound really well with their metal core and hard rock post-hardcore style. Both bands have a plethora of chart-toppers, which is going to be a hit with all the fans in attendance.
Tickets to the show must be purchased in advance, as they will sell out very quickly—it is the metal event of the year after all. You can easily secure yours right HERE and NOW but you must act with haste.