iTHINK Amphitheatre | West Palm Beach, Florida
The amazing artists Beck & Cage The Elephant have announced a groundbreaking tour across the US this summer time! And to make it even better, they are heading to Coral Sky Amphitheatre on Friday 30th August 2019, to give local fans a treat to the ears and eyes! With both of their outstanding material, this is bound to be a special night ahead! Book your tickets to guarantee a place in the crowd!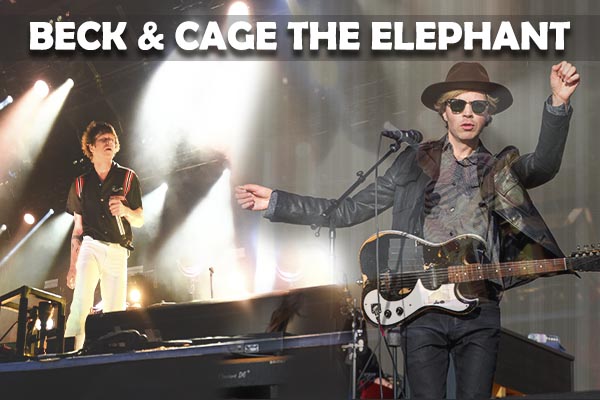 Beck:
The talented songwriter Beck has proven he has what it takes to stay at the top of his game throughout the years! With more than 20 years under his belt, Beck has released nothing but top quality music, ever showcasing his songwriting talents and pushing the boundaries for genre's as he goes. From experimental and lo-fi style and now creating a merge of folk, funk, soul, hip hop, electronic, alternative rock, country, and psychedelia – Beck has covered it all, effortlessly and always remained true to himself as an artist.
Now with a total of 13 records out in to the world, he still continues to do what he does best and share with his fans, much loved material and fresh new tracks as he tours the globe. Beck's on stage energy is one of the greatest things to witness as he performs his successful anthems from the last couple of decades!
Cage The Elephant:
As they kick started their career, in 2006 – Cage The Elephant churned out their debut record within just two years and quickly became the hottest name on the music scene. As they got up and moved from Kentucky to London in the UK, they made a transformational influence on their career, building themselves to a worldwide name and of course gaining their dedicated fan base that have stayed with them throughout the years. With positive reviews from critics and countless radio play, these guys have showcased the very best of their music and just keep on going.
Band members; Lead vocalist Matt Shultz, rhythm guitarist Brad Shultz, lead guitarist Nick Bockrath, guitarist and keyboardist Matthan Minster, bassist Daniel Tichenor, and drummer Jared Champion – are all behind their distinctive and much loved sound that takes influence from the Punk greats, Nirvana and Pixies and also spreads across the genre's from classic rock to funk and blues.
North America are you ready for the night of your lives?! As Beck and Cage The Elephant both bring their out of this world performance to the live stage?! Don't miss what's in store for summer 2019.