Coral Sky Amphitheatre at the S. Florida Fairgrounds
Two bands that have officially reached "legendary" status – Chicago – The Band & The Doobie Brothers – have teamed up for a co-headling North American summer tour, and they come to Perfect Vodka Amphitheatre on Friday 30th June 2017! Both made their name in the 1970s with genre-defying classic rock, and have continued to be popular throughout the decades spawning numerous hits! So come boogie to some of thise well-loved songs and see these legends live!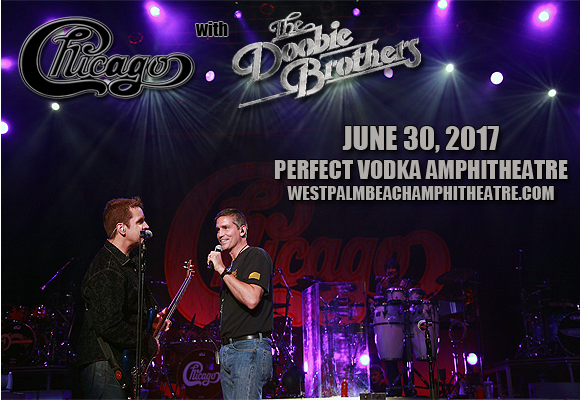 Chicago are an American music group that started life in 1967 under the name Chicago Transit Authority as a politically driven, experimental "rock and roll band with horns". Two years after they formed, the band released their eponymous double-disc debut, which was certified platinum by 1970, having sold over one million copies. The band shortened their name after their debut release, and their second double-album, titled Chicago (retroactively known as Chicago II), was released in 1970, generating two top ten hits: "Make Me Smile" (No. 9 U.S.) and "Colour My World". Chicago went on to release LPs at a rate of at least one album per year from their third album in 1971 on through the 1970s, and had a number of hits throughout the 1970s and 80s. Second only to The Beach Boys in Billboard singles and albums chart success among American bands, Chicago is one of the longest-running and most successful rock groups, and one of the world's best-selling groups of all time, having sold more than 100 million records.