Coral Sky Amphitheatre at the S. Florida Fairgrounds
If you like your live shows a little different, then you can't miss Counting Crows on their 25 Years And Counting Tour around the US! With special support from Live, they're coming to the Coral Sky Amphitheatre on Wednesday 1st August 2018! Tickets on sale now and selling FAST – hit that "Buy Tickets," button to grab yours while you still have the chance!!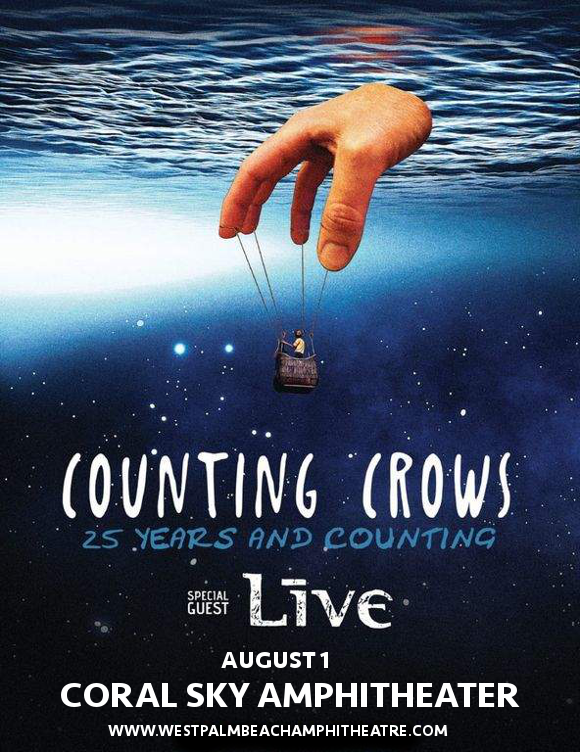 Formed in 1991 and blowing up with the huge success of their single "Mr. Jones," two years later, the Counting Crows have established a firm fanbase and gained worldwide recognition for their unique songwriting skills, diverse span of genres and unusual instrumentation, achieved by a band member count of seven.
The group, in particular vocalist Adam Duritz, have become well-known for their inventive live approach, incorporating large amounts of improvisation and seriously altering songs on the spot. "I don't feel like the songs have to be played the same way every time, or they have to be set in stone," he explained, regarding his particular live performance style. "If you listen carefully, you'll hear your band mates playing differently, and it's okay to be inspired by that and do something different yourself. I think it's important to see the songs as living things and to allow the events of the day to influence the songs. People get worried about playing things right, and that turns into playing things the same. I don't feel any pressure to do that."
One thing's for sure though – the show is going to be AMAZING!! What are you waiting for?? Get those tickets while you can!