Coral Sky Amphitheatre at the S. Florida Fairgrounds
Fans of the Dave Matthews Band, we've got some epic news for you! Your favourite group is back on tour once more in 2019, hitting the Coral Sky Amphitheatre on Friday 26th July 2019! If you missed your chance to catch them last year, then you're in luck! Hurry though – the Dave Matthews Band are known for their incredible live tours and they sell out fast every year! Remember there are no shipping charges or service fees for all tickets bought direct from this website.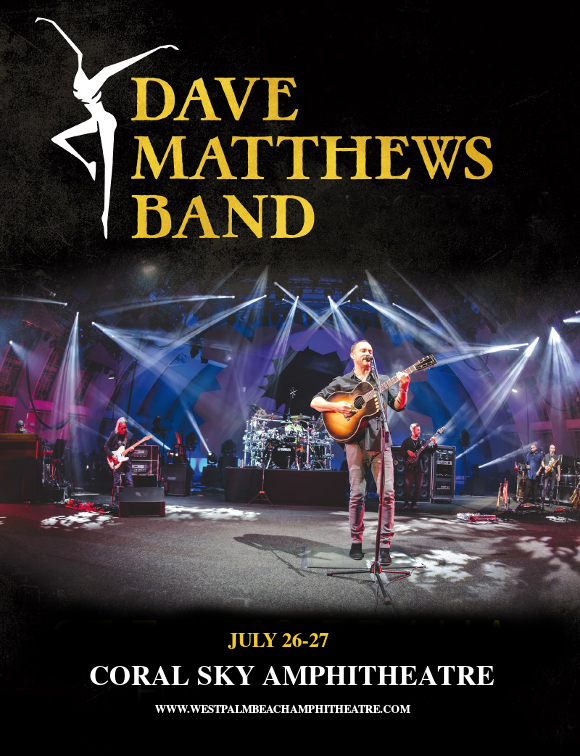 In nearly 3 decades since their formation, the Dave Matthews Band have become one of the staples of the jam rock world. With their extensive catalog and rotating cast of highly talented musicians, every song is performed in a new way each time the band performs live – which explains their popularity while touring. Fans go to see them over and over again, because no two Dave Matthews Band shows are ever the same!!
Their latest record, "Come Tomorrow," hit the top of the Billboard 200! "I think it's a good record," Dave Matthews said in an interview. "You don't call it records anymore, except I do, because I'm old timey. And, I think it's good. Nobody listens to records from the beginning to the end, but if you do, it's good from the beginning to the end."
We don't find that hard to believe! What are you waiting for?? Get your tickets now to see the Dave Matthews Band performing all the new songs from "Come Tomorrow," while they last and get ready for an incredible show!!