Coral Sky Amphitheatre at the S. Florida Fairgrounds
If you didn't manage to catch the Dave Matthews Band last year, then we've got some exciting news for you! The nations favourite rock-jam band are hitting the road again in 2019, playing their second night at the Coral Sky Amphitheatre on Friday 26 July 2019! It's going to be an amazing concert – make sure you're there!! Hit the "Buy Tickets," button now and get your tickets today!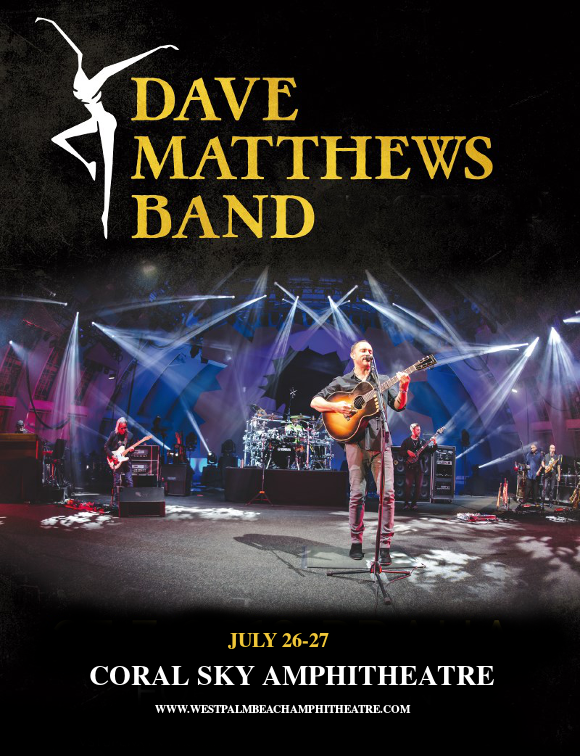 The band's latest album, "Come Tomorrow," shot straight to the top of the charts upon its release, making the Dave Matthews Band the first group to have 7 consecutive albums top the Billboard 200! It was also the best-selling rock album in over four years, and broke the first-week album sales record for 2018, with sales of over 285,000 copies.
"It's all about love," was Dave Matthews simple response when asked about the latest album's themes. "It's a love of the future, it's love a of hope, it's a love of family, it's a love of the planet, it's a love of lust, it's a love of attraction. It's a lot of loves on it. But it comes from love, because some of the songs are really sad. There are songs about loss as well, and about death, but that's all love too. It's all love."
Get ready to experience that love live with Dave Matthews and his band of incredible musicians with the concert atmosphere that only they can provide. Have you got your tickets yet??