Coral Sky Amphitheatre at the S. Florida Fairgrounds
Country maverick Dierks Bentley is taking to the road once again this summer, bringing brand new tunes and one hell of a line-up to Coral Sky Amphitheatre on Friday 14th September 2018! The "Drunk On A Plane" singer is celebrating the release of his upcoming new album, The Mountain, and on the Mountain High Tour fans can expect exciting things, including support from Brothers Osborne and LANCO:
"I've been friends with T.J. and John for a long time and I have loved watching their career explode," Bentley says of opening act Brothers Osborne. "I'm just getting to know the boys in Lanco but I love their music and the energy they bring to the stage."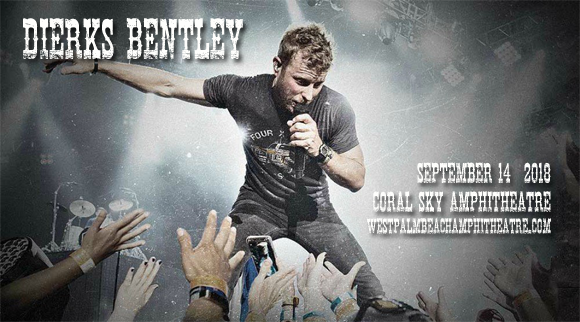 Country sensation Dierks Bentley burst onto the country scene in 2003 when he released his platinum-selling eponymous debut album on Capitol Nashville, launching three top-twenty singles, including the number-one hit "What Was I Thinkin'". Since then, Bentley's popularity has grown exponentially, with twenty-five singles on the Hot Country Songs and Country Airplay charts, including fifteen number ones. Bentley has released nine studio albums to date, including a greatest-hits album, and his tenth album, The Mountain, is due for release in 2018.