Coral Sky Amphitheatre at the S. Florida Fairgrounds
Dierks Bentley will be heading out for another leg of his sell-out What the Hell Tour this summer! With opening acts Cole Swindell & Jon Pardi in tow, Bentley comes to Perfect Vodka Amphitheatre on Saturday 17th June 2017 for a night of epic country music!
"The show last night—and even just being with Cole and Pardi hanging offstage the last few days—has me so pumped for the rest of this year," said Dierks. "There's not a cooler feeling in the world than the love that country music fans pour out every night when you're laying it all out on the stage. They are having the time of their lives, and we're all just getting lost in it together… The guys and I are never going to forget this tour and these fans and all the people helping us live out our dreams every night."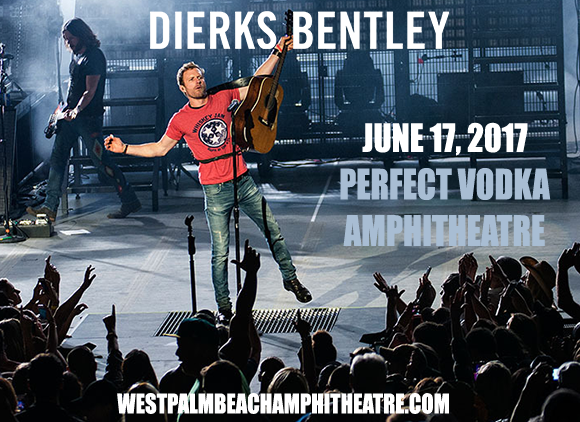 Dierks Bentley is a country music singer who signed to Capitol Records in 2003, receiving instant success and recognition for his self-titled debut album, released the same year, which was certified platinum by the RIAA. His 2005 follow-up album Modern Day Drifter also was certified platinum. To date, Bentley has released nine studio albums (including a bluegrass album and greatest hits compilation) and eighteen singles, thirteen of which have reached number one in the charts, and seventeen of which have reached the top five. Bentley's most recent album, Black, was released in May 2016.