iTHINK Financial Amphitheatre at the S. Florida Fairgrounds
Music is coming…your watch begins now! Get another chance to re-live the most riveting and memorable scenes from this iconic TV series through the Game of Thrones Live Concert Experience. This audio-visual spectacle has launched a North American tour, taking this experience to over 20 cities. And if you're around the vicinity of the Coral Sky Amphitheatre, book tickets now for this date– Saturday 21st September 2019. This is will be a long night guaranteed to give you a royally epic experience.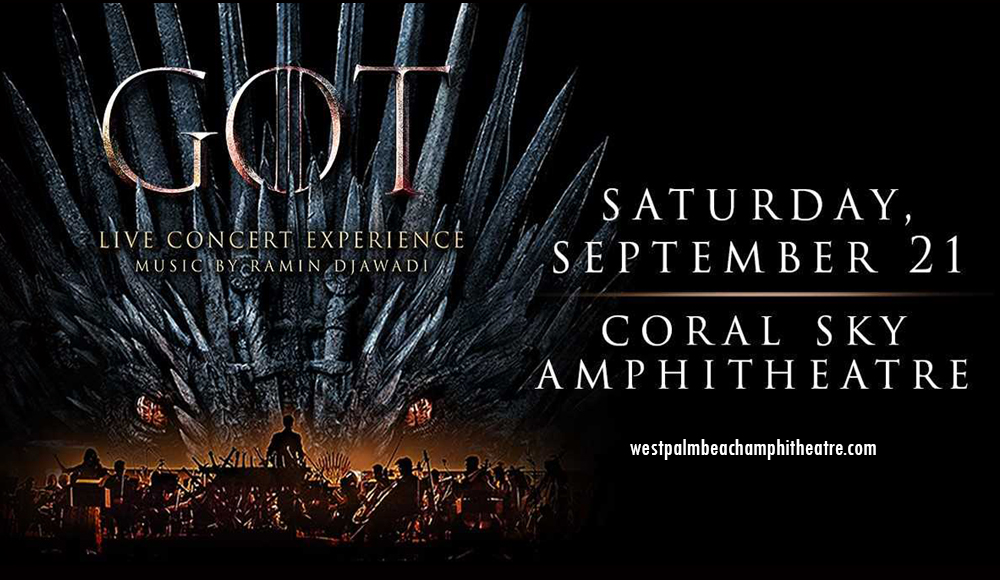 Give regards to the Lannisters. Join forces with the Starks. Serve in the Night's Watch. Revisit the Iron Throne on King's Landing. Bend the knee to the Queen Mother of Dragons… The Games of Thrones experience is like no other. One of the most remarkable features of this best-loved tv series is the tv theme song and its music scoring by renowned composer Ramin Djawadi. Dubbed as "Music Is Coming", this tour in particular includes Djawadi, conducting an 80-piece orchestra and choir, which will perform highlights from the series' musical score, on a 360-degree stage with LED telescoping and wall screens, and special 3D designs that replicate the magnificence of key landmarks such as Kings Landing, The Wall in Winterfell, The Iron Throne. For this tour, the boast of recreating the epic "Long Night" episode battle featuring the sweeping 9-minute "The Night King" theme.
"We really want to summarize the show the best we can, there's a lot of different locations and events to cover. If you come and watch this concert, you really get a nice summary and a nice look back on the past seasons. The one I'm really excited about is 'Light of the Seven,' which was such a great surprise to the viewers, because it's the first time we're using piano, Besides the orchestra and the choir, we will have the piano and that piece to play. That'll be really great live.", explains Ramin Djawadi.
And just like how Tyrion puts it, GoT fans are united by stories. Now, this experience will let music relive this magnificent tale that can only be retold in the Game of Thrones Live Concert Experience. Get your tickets now!