iTHINK Amphitheatre | West Palm Beach, Florida
The Wilson sisters are back! After a three-year hiatus, classic rock band Heart return to the road with their hotly anticipated Love Alive Tour, named after a track from their 1977 album Little Queen! Along with special guest support act Elle King, Heart are headed to Coral Sky Amphitheatre on Friday 16th August 2019, and they're looking forward to fostering a little love with the crowd:
"'Love Alive' is a song and a sentiment that goes back a long way with us. It goes forward too. It is a hopeful, positive and universal vibe like we feel this tour will be," said Ann Wilson.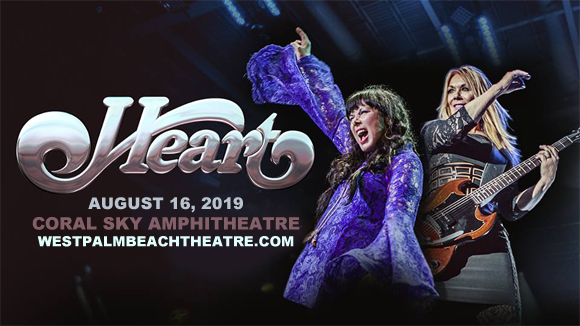 "Alone", "Barracuda", "Crazy On You", "These Dreams"… Just a few of the 20 top 40 singles American rock band Heart has charted over its five-decade career. Formed in 1973, the group has charted op 10 albums on the Billboard 200 in the 1970s, 1980s, 1990s, and 2010s – the longest span of top 10 albums by a female-fronted band, and has charted seven top 10 albums in total, selling over 35 million units worldwide over the years. Fronted by sisters Ann Wilson (lead vocals, flute and guitar) and Nancy Wilson (guitar, mandolin and vocals), Heart is credited with being the first female-fronted hard rock band and was inducted into the Rock and Roll Hall of Fame in 2013. Heart's 16th and most recent studio album is Beautiful Broken (2016).