iTHINK Financial Amphitheatre at the S. Florida Fairgrounds
If you loved Hootie & The Blowfish's album "Cracked Rear View," then get ready for a concert that will take you back! In celebration of one of the world's most popular albums 25th anniversary, Hootie And The Blowfish have returned after a 10-year break with the Group Therapy tour with the Barenaked Ladies!! It's all happening at the Coral Sky Amphitheatre on Saturday 8th June 2019 – do NOT miss it!! Hit the "Buy Tickets," button NOW to be sure of your place at the show!!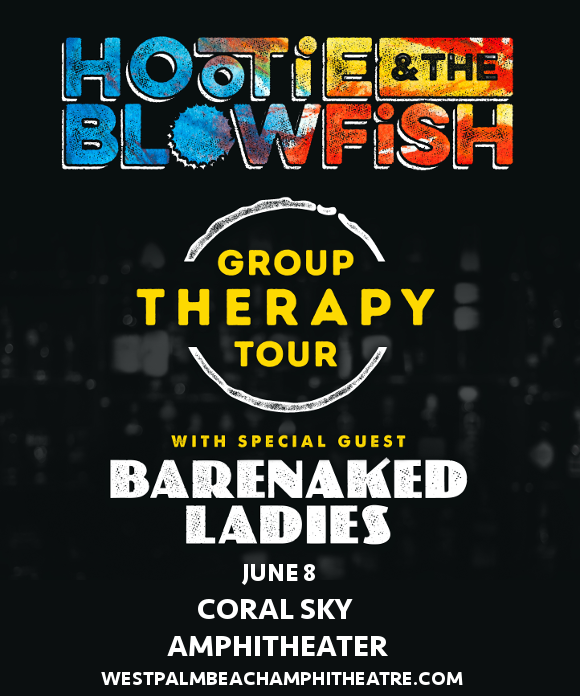 Featuring the hit singles "Hold My Hand," "Let Her Cry," and "Only Wanna Be With You," "Cracked Rear View," "Cracked Rear View," was a breakthrough smash hit of feel-good melodies in an era where gritty, hard-edged rock ruled the roost. With over 21 million copies sold to date, the album has been certified Diamond TWICE by the RIAA! To date, it remains the 19th most popular album by sales EVER in the United States.
The success of the album saw the band through one sold-out show after another and the release of four follow-up albums before the band went on indefinite hiatus in 2009. Now, Hootie And The Blowfish's reunion comes with the news not just of a big tour, but an all-new album in the works on the same label as frontman Darius Rucker's solo country career!
We can hardly wait to hear all this live – can you?? No?? Then what are you waiting for – grab those tickets while you still have the chance!!