Coral Sky Amphitheatre at the S. Florida Fairgrounds
If you love Imagine Dragons, you're in for a treat. One of the biggest bands in the world right now are on tour in 2018 with their latest album "Evolve"! They're coming to the Coral Sky Amphitheatre on Thursday 9th August 2018 – tickets are available now! They're expected to sell VERY fast, so don't delay – grab yours now!!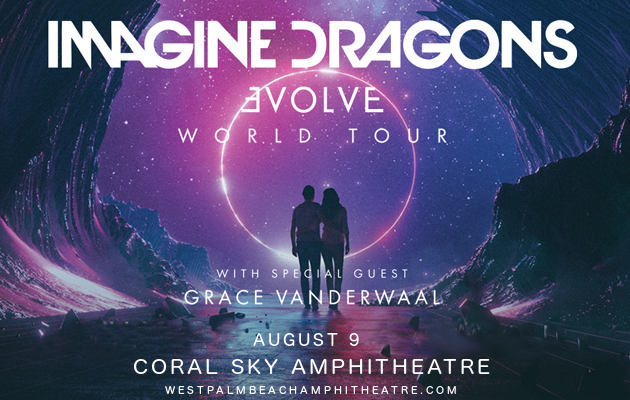 Imagine Dragons' new album is their third, the follow-up to 2015's critically acclaimed "Smoke + Mirrors". The name "Evolve," is indicative of the band's changing direction, both musically and personally, over time. No songs on the album reflect the theme of transformation more than the lead singer "Believer". "I was raised in a really conservative household and carried a heavy guilty conscience with me because of religion," Reynold explained in an interview. "Letting go of that was really freeing and wonderful. But I've also learned to be happy for the things I learned from it and grateful for the love that I found… If it wasn't for all of those things working in the exact way they did, Imagine Dragons would cease to exist."
Get ready for Imagine Dragons' most epic show yet! Have you got your tickets??