Coral Sky Amphitheatre at the S. Florida Fairgrounds
Very very VERY exciting news, Incubus fans. After more than 6 years since their last album, the legendary band with support from Jimmy Eat World will headline the Perfect Vodka Amphitheatre on Thursday 6th July 2017!! Don't miss out on this incredible show – grab your tickets before they go!!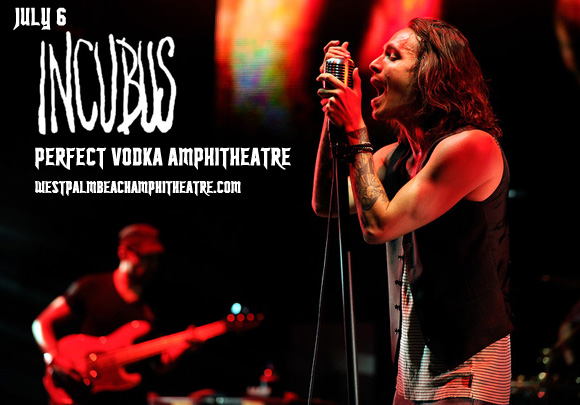 Formed in 1991 by frontman and singer Brandon Boyd alongside schoolmates Mike Einsiger on guitar and drummer Jose Pasillas and later expanding to include further band members, Incubus saw their first commercial breakthrough in 1999 with the album "Make Yourself," the singles "Pardon Me," and "Stellar," of which became hugely popular. From there, the band went from strength to strength, attaining wild popularity with their follow-up album "Morning View," up to the peak of soaring success with their album "Light Grenades," which was certified Gold, reaching first position on the US charts!
Now, after a long wait, Incubus are remaining coy with the details of their upcoming album, however they have just dropped a lyric video for the first single. "Nimble Bastard" which we'd thoroughly suggest you check out below – it's easily one of the band's best songs today! Infectously catchy, with everyone crashing in straight at the start, vocals included, its a fantastically energetic taster of what's yet to come.
Satisfy a little of your craving for more Incubus with the knowledge that you'll be seeing your favorite band performing their new material live in just a couple of months – hit the "Buy Tickets" button and get yours today!!