Coral Sky Amphitheatre at the S. Florida Fairgrounds
It's an all-American line-up as Kid Rock heads to Coral Sky Amphitheatre on Saturday 13th October 2018 for the Red Blooded Rock N Roll Redneck Extravaganza tour, with support from fellow country act Brantley Gilbert and country comedian Wheeler Walker! The rap-rocker-turned-country-superstar is touring to promote his Sweet Southern Sugar album, bringing his fellow country renegades along for the ride!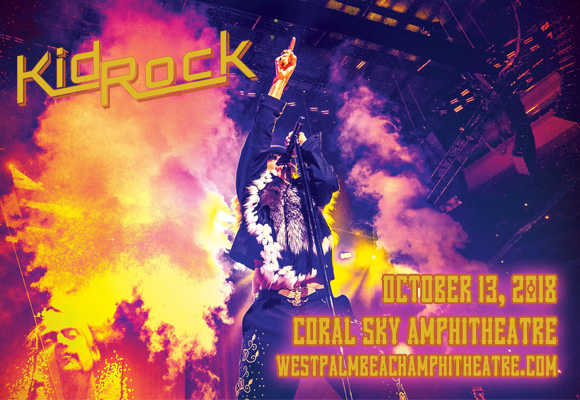 Rising to prominence as a rapper in and around Detroit in the 1980s as a member of hip hop group The Beast Crew, American singer-songwriter, rapper, musician, record producer and actor Kid Rock began as a self-taught breakdancer, rapper, DJ, producer and multi-instrumentalist, and today plays all the instruments in his backing band. By 1988, a series of demos produced by Insane Clown Posse producer Mike E. Clark led to a bidding war for Kid Rock between six major record labels, including Atlantic and CBS Records. Rock signed with Jive Records that year, releasing his debut studio album Grits Sandwiches for Breakfast and launching his career as one of Detroit's most famous hip hop artists. Ten years later, after the release of several successful hip hop albums, Rock released Devil Without a Cause, which featured the distinct blend of country, rap and rock that Kid Rock has become known for. A mainstream breakthrough, the album was eventually certified eleven-times platinum by the RIAA. Rock continued to release a string of successful studio albums, with a concentration solely on sung country music between 2007 – 2015. Rock's most recent album, 2017's Sweet Southern Sugar, was a return to rap for the artist.