iTHINK Financial Amphitheatre at the S. Florida Fairgrounds
You could definitely use somebody's company to have a-rockin' time at the Kings of Leon live show happening at the iTHINK Financial Amphitheatre on Tuesday 3rd August 2021. Alt-rock band Kings of Leon have recently released their latest album and are now embarking on a massive tour dubbed as "When You See Yourself" Tour. Expect them to dish out new material from the album but of course, they would indulge the audience with fan-fave anthems like "Sex on Fire", "Use Somebody", and "Notion". You'd surely see yourself having a ball, might as well round up your concert buddies to get tickets to catch the show. Kings of Leon followers are not taking this announcement sitting down, but you can, literally. See that 'Get Tickets' link on this website? Click that to book your tickets now!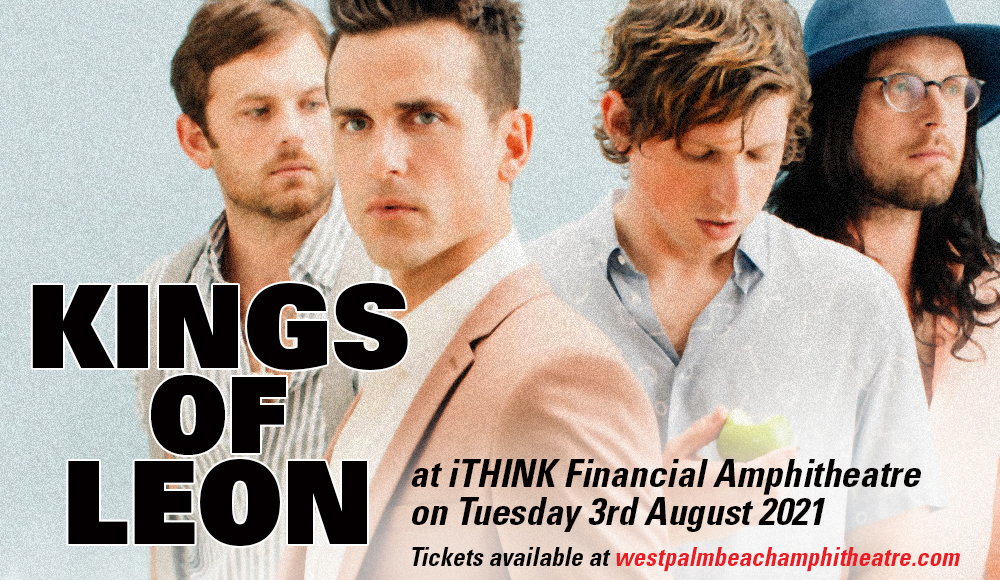 Formed in Nashville, Tennessee, in 1999, brothers Caleb, Nathan, and Jared Followill with their cousin Matthew Followill christened their band Kings of Leon. Country music may be in its roots and influences, but Kings of Leon found their musical haven in a blend of Southern rock and garage rock with blues, then eventually evolved into an alternative, arena rock sound. And this sound travelled all the way to the UK as the Kings scored astounding hits with nine Top 40 singles, two BRIT Awards in 2008. Three of the Kings' albums peaked in the top five of the UK Albums Chart, with their album 'Because of the Times', also reaching the number one spot.
By 2010, the US and the rest of the world caught on, as the singles "Sex on Fire", "Use Somebody", and "Notion" all peaked at number one on the Hot Modern Rock Tracks chart. The Kings of Leon bagged a dozenGrammy Award nominations, and taking home 4 wins. Their latest album "When You See Yourself" released in March 2021, Rolling Stone Magazine notes "…the band's eighth album is an arena rock of the mind," that "lunges and soars with rippling guitar leads cascading across some of the dirtiest riffs the band has put on a record since the New South-meets-neo-Strokes garage moves of its first two albums… this record might surprise you."
The Kings of Leon has one the biggest loyal following among rock fans, and tours such as this are always met with eager anticipation. If you're an alt-rock fan seeking to bob your head or sing anthemic hits at the top of your lungs, The Kings of Leon is the perfect match for you! Tickets out now!