Coral Sky Amphitheatre at the S. Florida Fairgrounds
HUGE news Luke Bryan fans!! On the Ellen De Generes Show late last year, he made the announcement that he was about to go on tour in 2018!! Ladies and gentlemen, get ready for the "What Makes You Country," North American tour, with special support from fellow country stars Jon Pardi and Morgan Wallen! Coming to the Coral Sky Amphitheatre LIVE on Thursday 21st June 2018 – tickets will sell out FAST so don't delay – get yours today!!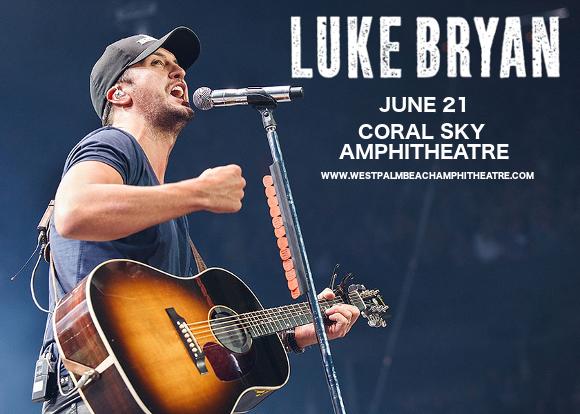 Performing country music since 2006, Luke Bryan is well-known as one of the most successful country artists in the world, with sales of over 7 million albums. Experimenting with various genres throughout his career, Luke Bryan has faced some criticism for not being true enough to his roots, and with his latest offering, he seeks to address what being "country," really means.
"I think I would be naive to think that I would get to this level of my career and not have naysayers," the singer said, unruffled by the critics. "My success and approach to get here, I couldn't have scripted it any betterI'm really happy about everything I've done … I feel like my fans that are fans of mine are fans of me for my music, the way I do live shows, and for how I live my personal life too. I'm proud of all of that."
We can attest to the truth of the part about the fans! What are you waiting for?? Get your Luke Bryan tickets NOW while you can!!