Coral Sky Amphitheatre at the S. Florida Fairgrounds
All those fans of Southern rock get ready for an unmissable show – Lynyrd Skynyrd are performing their very last concerts this year with the Last Of The Street Survivors Farewell Tour with an incredible group of support acts joining them at various stops on the journey!! They're headed to the Coral Sky Amphitheatre on Friday 4th May 2018 – don't miss your chance to be there, as this is truly the last chance you'll get!! Tickets expected to sell out FAST, so hit the "Buy Tickets," button IMMEDIATELY to be sure of your place at the concert!!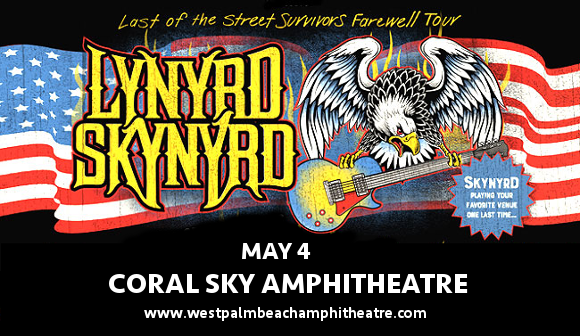 Officially formed as Lynyrd Skynyrd in 1969, Lynyrd Skynyrd are responsible for almost single-handedly bringing Southern rock to the wider world. With smash hit singles such as "Free Bird," and "Sweet Home Alabama," which still see wide rotation on rock radio stations to this day, they rocked the entire world with their signature sound!!
After an incredible 45 years on the road, the final incarnation of Lynyrd Skynyrd is coming to an end. The tour marks an emotional time for both fans and the band themselves. "It's hard to imagine, after all these years, the band that Ronnie Van Zant, Allen Collins and myself started back in Jacksonville, would resonate for this long and to so many generations of fans," mused Gary Rossington, the band's guitarist. "I'm certain they are looking down from above, amazed that the music has touched so many."
Get ready to be part of one of the greatest concerts of 2018 – get your Lynyrd Skynyrd tickets TODAY!!