Coral Sky Amphitheatre at the S. Florida Fairgrounds
Raise your voices, lift your hands, and let your spirits soar. Praise the heavens and rejoice for bringing together two of contemporary Christian music's most awe-inspiring artists. Michael W. Smith & Newsboys are back-to-back headliners in a live show dubbed as the "Surrounded and United" tour, happening this 27th April 2019 at the Coral Sky Amphitheatre. Such a powerhouse combination will not only draw-in faith followers but also hordes of music fans from all walks of life. With tickets sales moving rapidly, it won't hurt to say a little prayer or make a wish that you get yours before the 'sold out' sign comes up. Be a witness, spread the word, and seize this exciting moment live and in the flesh. Book your tickets now!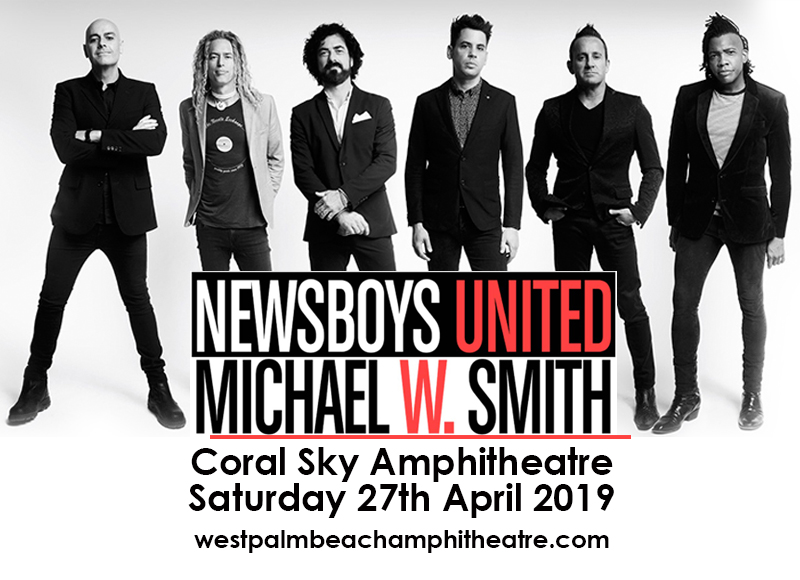 Joining forces on the live stage for the first time ever are two powerhouse contemporary Christian artists Michael W. Smith & Newsboys. The "Surrounded & United: The Tour" will take them to a 10-city outing the promises to deliver a worship night through songs of hits and praise.
Both artists have mutually expressed their excitement in performing live, back-to-back.
Newsboys' Michael Tait says: "We're so excited to join our friend Michael W. Smith on the road next spring….Over the years worship has become central to both our identities as artists, so having the chance to worship together will be such a special experience."
"I've been friends with the guys in Newsboys for years, but for whatever reason, we've never had the opportunity to tour together….The time finally seems right, and I'm really looking forward to this—great guys, great music, great worship. This is going to be fun!," exclaims Smith.
Michael Tait, Duncan Phillips, Jeff Frankenstein and Jody Davis, complete the current Newsboys line-up. The Newsboys have certainly hit the headlines with impressive sales figures of selling more than 10 million units, bagging eight Gold certifications, 33 #1 radio chart toppers, four GRAMMY nominations, two American Music Award nominations and multiple Dove Awards. They have released 23 recordings with the following signature hit songs to their name: "We Believe," "He Reigns," "Miracles," "Born Again" and the Platinum mega-hit, "God's Not Dead," which also inspired a movie and its sequels.
Michael W Smith's career which spans 30 years, is highly decorated with 32 #1 singles, three GRAMMY Awards and 45 Dove Awards wins. With record sales of more than 15 million albums, he was honored with an induction into the Gospel Music Hall of Fame. He is marked by his all-time hits –"Place in this World," "For You," "Hosanna," "Great is the Lord," "Friends," "Love Me Good," "This Is Your Time," and "You Won't Let Go." And he has crossed over into broke into the mainstream music scene with hits like "Place in this World" and "I Will Be Here For You."
Book your tickets now to "Surrounded & United: The Tour". Michael W. Smith & Newsboys are geared to bring the house down but are loaded with the power of music to lift your spirits and take you heights of joyful worship and praise.