Coral Sky Amphitheatre at the S. Florida Fairgrounds
Fans of country, pop and classic rock, listen up, as you're about to be treated to all three as Niall Horan and Maren Morris join forces for Niall Horan's hugely anticipated "Flicker," North American tour!! Coming live to the Perfect Vodka Amphitheatre on Sunday 23rd September 2018 – tickets are on sale and flying! Be quick to book yours quick if you want to be sure of your place at the show!!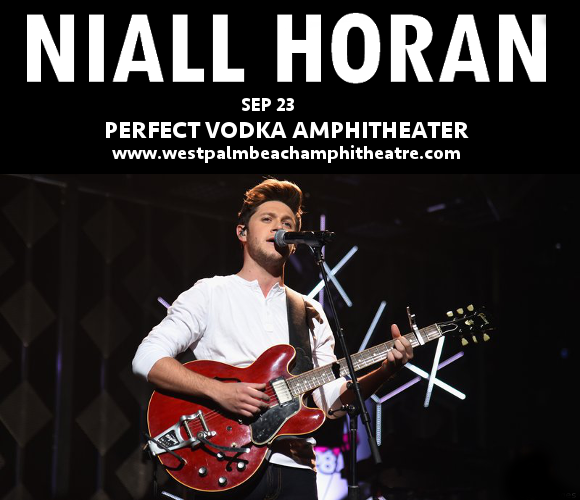 Best known as a member of the global sensation One Direction, the boy band that shattered all expectations, Niall Horan strikes out on his own in 2018, with his new, classic-rock inspired album, the amazing "Flicker". Featuring the singles "This Town," "Too Much To Ask," "Slow Hands," and "Seeing Blind," featuring Maren Morris, "Flicker," showcases Niall Horan at his very best and most versatile.
Joining him on tour is "Seeing Blind," collaborator Maren Morris. Best known for her smash hit single "My Church," the country artist skyrocketed to popularity with her first major label release, "Hero," in 2016, her fourth album overall. Nominated for Best Country Album at the 59th Annual Grammy Awards, it is widely considered to be one of the best album releases overall of the year!!
Now, after their stunning collaboration on the beautiful country ballad "Seeing Blind," Maren Morris and Niall Horan are teaming up to show the world just how perfect the combination of country and contemporary pop/rock can be!! 

Don't miss out on your chance to experience it all for yourself – get your tickets to see Niall Horan and Maren Morris NOW!!