iTHINK Financial Amphitheatre at the S. Florida Fairgrounds
Rod Wave is bringing his biggest tour yet to iTHINK Financial Amphitheatre on Friday 10th September 2021! The SoulFly Tour sees the young singer-songwriter and rapper upping his game to match the huge success of his latest album, which brought us the massive hits "Tombstone" and "Richer"! The SoulFly Tour is put on by hip-hop festival pioneers Rolling Wave and between their flair for entertaining events and Wave's sheer talent, this show is gonna be fire!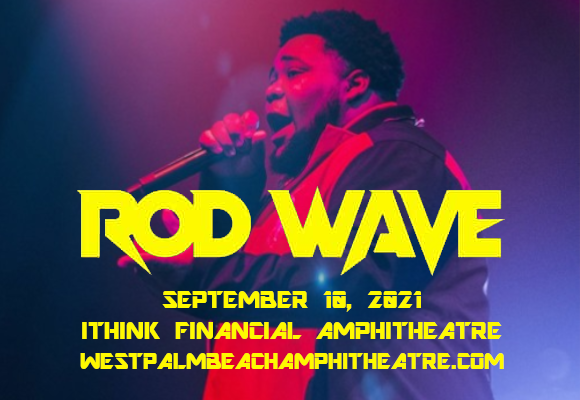 At only 22 years old, Rod Wave has made a huge name for himself in the industry in a short space of time. In 2019, his single "Heart on Ice" (from his mixtape PTSD) became a viral hit on YouTube and Tik Tok, bringing him chart success when it peaked at number 25 on the Billboard Hot 100. This led to further success when he released his debut album, Ghetto Gospel, later in the year and it peaked at number 10 on the Billboard 200, gaining gold certification from the RIAA. His 2020 sophomore effort Pray for Love cemented his status as an R&B and hip-hop star, reaching number two on the Billboard 200 and charting 12 of its tracks on the Billboard Hot 100, including the single "Rags2Riches", which peaked at number 12. Wave released his third studio album, SoulFly, in March 2021, debuting at the top spot on the Billboard 200 – his first number one record.