Coral Sky Amphitheatre at the S. Florida Fairgrounds
Thrash metal fans unite!! Slayer are completing the last leg of their FINAL TOUR EVER in the US in 2019! The massive world tour will bring them to the Coral Sky Amphitheatre on Saturday 11th May 2019! This show is going to be EPIC on a scale like nothing you've ever seen before – no Slayer fan can afford to miss it!! Free shipping and no service charge on all orders – get those tickets while they last!!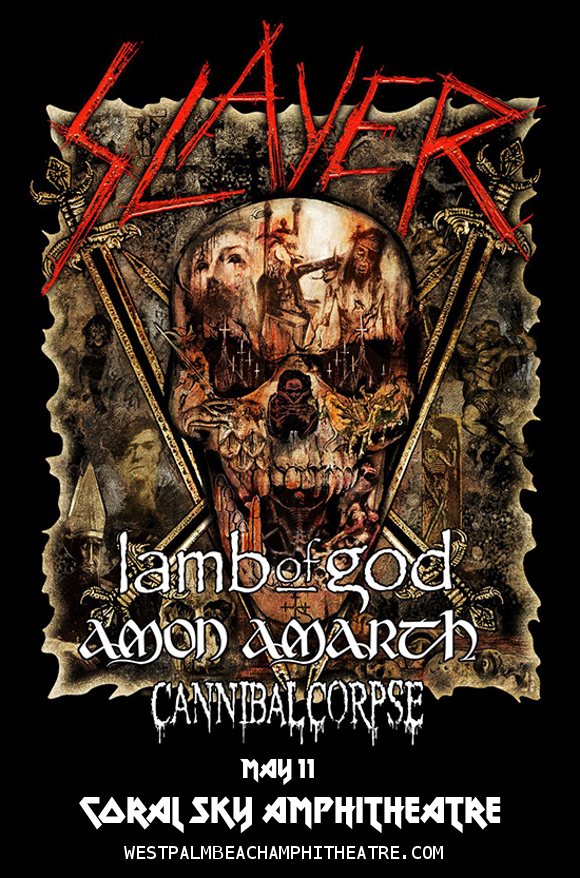 Formed in 1981 and thriving relentlessly ever since, Slayer, one of heavy metal's most legendary bans, have had a virtually unparalleled influence on metal music, with their name being virtually synonymous with the creation of the thrash metal genre. With over 12 studio albums and sales of millions of records in the United States alone, they have reigned supreme as one of metal's Big Four. To nobody's surprise, so far, Slayer's farewell tour has sold out everywhere they've played.
"I just want to take the time out to say thank you to all our fans who have made this first part of this tour phenomenal," said singer and bassist Tom Araya. "You really are loyal and dedicated fans and we appreciate that so much from you. We still have quite a few places to play, so next year, keep your eyes and ears open so you can catch us live one last and final time. Again, thank you!"
What are you waiting for?? Hit the "Buy Tickets," button and grab your space at Slayer's last show NOW!!