Coral Sky Amphitheatre at the S. Florida Fairgrounds
If you're ready to experience two of the most influential bands of the 70s live in one night, the Coral Sky Amphitheatre's got you covered! Steely Dan and The Doobie Brothers are teaming up for a co-headlining jaunt entitled The Summer Of Living Dangerously, coming to the Coral Sky Amphitheater on Thursday 17th May 2018. Get your Steely Dan and The Doobie Brothers tickets today – with no service fee or shipping charge!!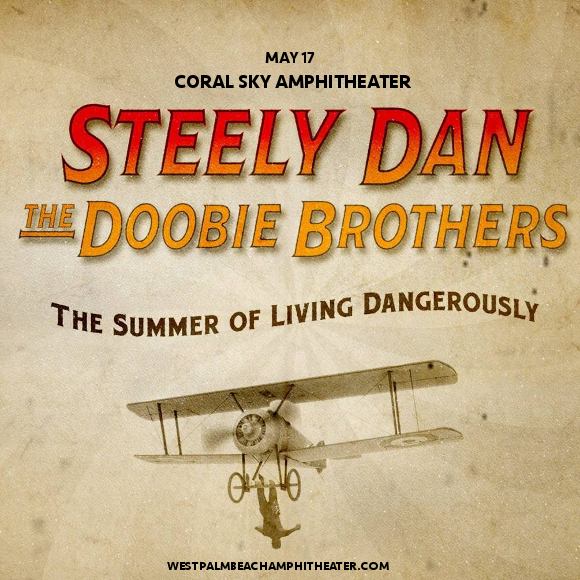 Known for their complex arrangements, intense perfectionism in studio and cryptic, often sardonic lyrics, Steely Dan started developing a following with their first album, "Can't Buy a Thrill," in 1972. Two years later, the band retired from touring to become a studio-only band, featuring a revolving cast of session musicians on their records. They disbanded in 1981, but reformed again in 1993 Their first release since reforming, "Two Against Nature", won the band a Grammy Award for Album of the Year.
Starting out with a rock n' roll sound, The Doobie Brothers also expanded their musical influences following their formation in 1969. When lead vocalist Tom Johnston quite the group in 1975, he was replaced by Michael McDonald, who helped take the band in a more soul-influenced direction until they broke up in 1982. The band have continued strong since their reformation, continuing to write all-new material with contributions from McDonald.
Don't miss the opportunity to see these two legends of the 70s live – tickets are expected to sell fast so don't delay!! Get yours NOW while you have the chance!