Coral Sky Amphitheatre at the S. Florida Fairgrounds
Get ready for the biggest show of the year! That's right, for the first time ever, Weezer and the Pixies are joining forces for a MASSIVE North American tour! Supported by British rock group The Wombats, this incredible co-headlining force will descend upon the Coral Sky Amphitheatre on Friday 22nd June 2018 – get your tickets NOW before they sell out!!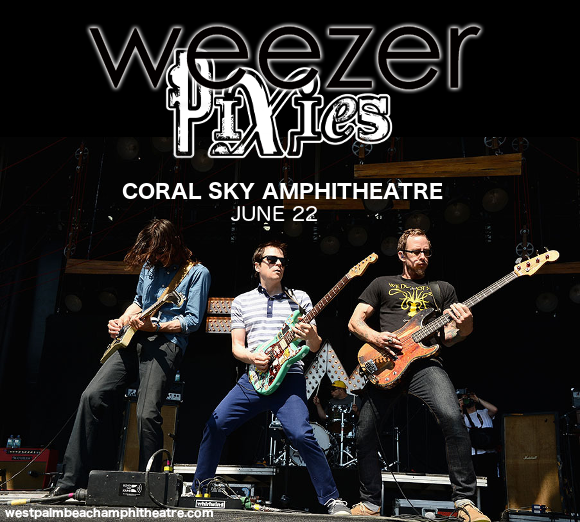 Few bands have had more of an influence on the sound of rock music today than the Pixies. With Kurt Cobain openly admitting to "ripping off the Pixies," they've influenced massive artists from the likes of Nirvana to Radiohead with their huge dynamics and bizarre lyrical content. After a long hiatus, they're now on tour for the first time with their most recent new band member, Paz Lenchantin. Known for their eclectic and intense live sets, expect songs from across their long career in addition to from the most recent album, "Head Carrier".
As huge fans of the Pixies and a similarly influential artist in their own right, no better act could be suited to tour with the Pixies than Weezer. They'll be performing songs from their brand new record, "Pacific Daydream" – in addition, of course, to all the Weezer songs you know and love! Listen to "Mexican Fender," from the new album below. But don't wait too long – spaces to see a lineup like this aren't going to last long! So be swift – grab those tickets while you still can! and get ready to be part of the making of live concert history!!