Coral Sky Amphitheatre at the S. Florida Fairgrounds
Legendary and prolific composer Yanni comes to Coral Sky Amphitheatre on Saturday 28th April 2018! The internationally acclaimed performer celebrates the 25th anniversary of his standout concert Live at the Acropolis this year, and will take to the road with a full orchestra to recreate the show live at venues all across North America! Don't miss your chance to see this very special event!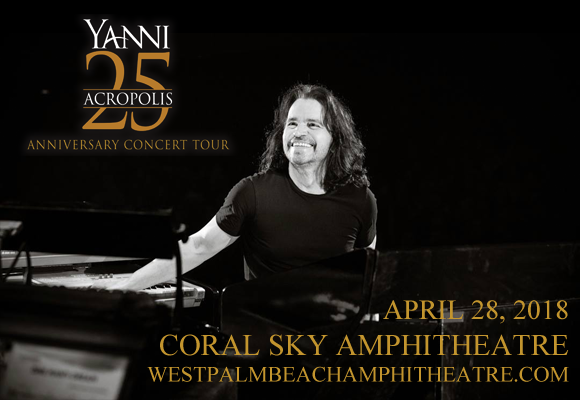 Yanni is a Greek composer, keyboardist, pianist, and music producer, who first made his name in the late 1980s and early 1990s. Yanni has performed in more than 30 countries on five continents, and has accrued 40 platinum and gold albums globally, with sales totaling over 25 million copies. Sixteen of Yanni's albums have peaked at No. 1 in Billboard's "Top New Age Album" category, and his albums Dare to Dream (1992) and In My Time (1993) were both Grammy-nominated. Yanni's breakthrough concert, Live at the Acropolis, was filmed in 1993 and became the second best-selling music concert video of all time (after Michael Jackson's Thriller), selling more than 7 million copies worldwide.