iTHINK Financial Amphitheatre at the S. Florida Fairgrounds
It's time for some multi-platinum-selling, Grammy Award-winning Americana from Zac Brown Band! Coming to Coral Sky Amphitheatre on Friday 18th October 2019 for the first of a two-night stint, the band have dubbed their summer/fall trek the Owl Tour, and the nocturnal animal will serve as inspiration both for their upcoming album and the tour itself:
"With The Owl Tour, our fans can expect some new and unexpected sounds woven into the signature Zac Brown Band live music experience," says Brown in a press release. "The owl holds special meaning for us, and we look forward to sharing this with everyone."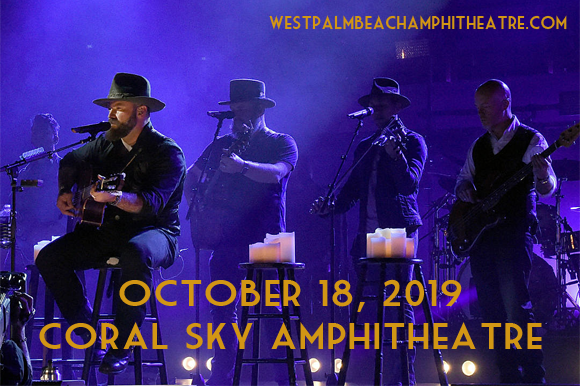 Led by frontman, singer, guitarist and songwriter Zac Brown, Zac Brown Band was formed in Dahlonega, Georgia in 2002. Brown had been regularly touring since the age of 19, and over time had bought himself a tour bus, which led to the official formation of Zac Brown Band. As time went on, he continued to tour extensively, and the band gained more and more members. Today, the group consists of Zac Brown (lead vocals, guitar), Jimmy De Martini (fiddle, vocals), John Driskell Hopkins (bass guitar, guitar, baritone guitar, banjo, ukulele, upright bass, vocals), Coy Bowles (guitar, keyboards), Chris Fryar (drums), Clay Cook (guitar, keyboards, mandolin, steel guitar, vocals), Matt Mangano (bass guitar), and Daniel de los Reyes (percussion). The group's debut album, The Foundation, was released in 2008 and has been certified triple-platinum by the RIAA. To date, Zac Brown Band has released five major-label studio albums, and has won three Grammy Awards from nine nominations.