iTHINK Financial Amphitheatre at the S. Florida Fairgrounds
Are you hyped to see ZZ Top?? The legendary bearded rock trio hits the to Coral Sky Amphitheatre on Sunday 20th October 2019, on tour in celebration of no less than 50 years together with the same unchanged lineup! Get ready to sing along to all the songs you know and love. "Tush," "La Grange," "Sharp Dressed Man," and more – grab your tickets today!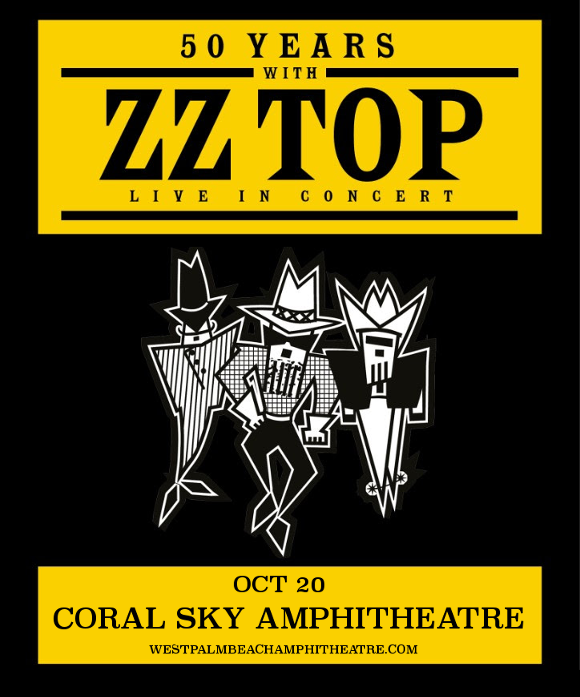 Composed of singer and guitarist Billy F Gibbons, bassist Dusty Hill and drummer Frank Beard (notably, the only band member not to have one), ZZ Top have been one of rock's most enduring acts, with the same lineup staying together unchanged since they first formed in 1969. And with no less than 11 gold, 7 platinum and 3 multi-platinum selling albums behind them, countless sold-out tours around the world and an induction into the Rock And Roll Hall Of Fame, what an incredible career over the years they've had!
"It's been 50 years, and I think we're starting to get pretty good!" joked Billy Gibbons in a a press release for the upcoming tour. "We're just as excited to play Barcelona this summer as we were to play Beaumont (TX) back in '69. The beards are, perhaps, a bit longer, but nothing much else has changed and we hope to keep it that way."
They've been going strong for five decades and their live performance has remained as brilliant as it ever was – see for yourself!! Grab your tickets to see ZZ Top NOW, while stocks last!!