iTHINK Financial Amphitheatre at the S. Florida Fairgrounds
Blink 182 & Lil Wayne are coming to rock your worlds with an insane co-headlining tour that touches down at Coral Sky Amphitheatre on Thursday 25th July 2019! Announcing the team-up with an off-the-wall mash-up of "A Milli" and "What's My Age Again?", the two renowned acts proved that they work incredibly well together, so let's hope that the show will see more collaboration, as well as two phenomenal headlining sets! Also, fans can look forward to Welsh punk rock band Neck Deep in support!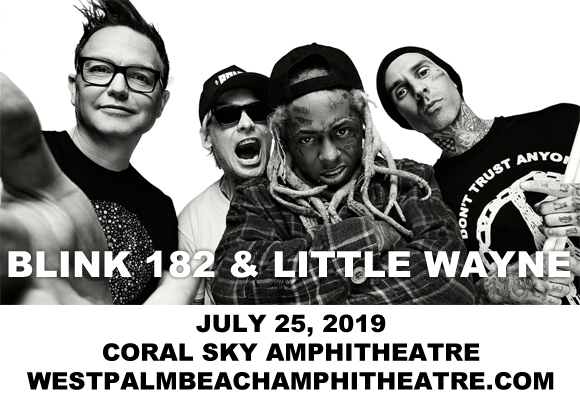 Pioneers of pop punk Blink-182 made their debut in 1995 with their self-released album Cheshire Cat. Picked up by MCA Records the following year, after a bidding war with Interscope and Epitaph, the group released its second studio album, Dude Ranch, in 1997, but it was 1999's Enema of the State that brought the group international fame. The album was recorded with drummer Travis Barker, who joined the band after their original drummer Scott Raynor left in 1998, and produced three singles – "What's My Age Again?", "All the Small Things", and "Adam's Song" – that became global hits thanks to heavy airplay and rotation on MTV. Their success grew further with 2001's Take Off Your Pants and Jacket, which launched three more worldwide hit singles. After the release of an eponymous album in 2003, the group embarked upon an indefinite hiatus, but reformed in 2009. They released the album Neighborhoods in 2011, but after friction in the years following, the group's original singer and guitarist Tom DeLonge left the group to be replaced by Alkaline Trio's Matt Skiba, leaving bassist and vocalist Mark Hoppus as the only remaining founding member. In 2016, Blink-182 released its latest album, California.