Coral Sky Amphitheatre at the S. Florida Fairgrounds
**CANCELLED**
Due to the passing of lead singer Chester Bennington, the Linkin Park One More Light Tour has been cancelled. Refunds will be available at point of purchase. Rest in peace, Chester.
***************************************
It's the comeback we've all been waiting for – get ready everyone, Linkin Park are on tour with their upcoming 2017 album!! With support from the incredible Machine Gun Kelly they'll be performing live at the Perfect Vodka Amphitheatre on Sunday 20th August 2017 – get your tickets NOW while they last and be there!!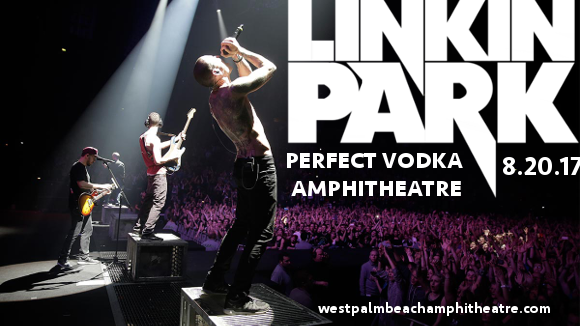 If there's one thing Linkin Park have always been consistently, it's innovative. Everything else, especially their musical style, is subject to constant experimentation and evolution. From their first two phenomenally successful albums, capturing listeners with their rap-meets-metal sound, the band went on to incorporate a wide variety of genres in all their bestselling releases thereafter.
Due out on May 19th, Linkin Park's hotly awaited new record is entitled "One More Light". The band have released their first single from the brand new album, "Heavy," which you can listen to below.Vocalist Mike Dhenoda said of the album; 'I can tell you you're going to be surprised. You gotta expect the unexpected. Don't expect what you've heard before."
And sure enough, featuring guest vocals from Kiiara, eletro-meets-hip-hop R&B artist, and a songwriting collaboration with Emily Wright, who has worked with artists such as Miley Cyrus and Flo Rida, the track gives us a hint of all the new sounds to expect on what promises to be one of Linkin Park's best albums yet.
Be among the first to hear all the songs from "One More Light," live – book your tickets to see Linkin Park today!!